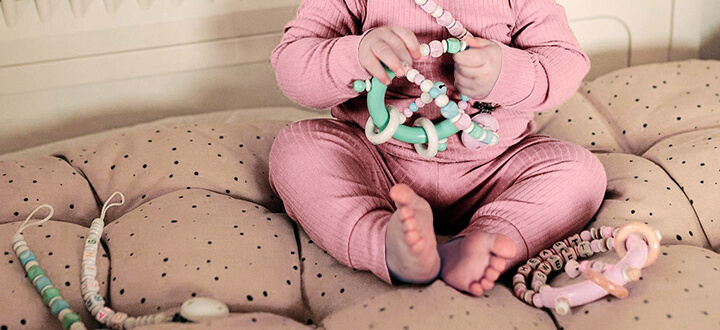 Are you trying to come up with a truly special gift to mark the birth of your child – or perhaps a child belonging to a relative, friend or acquaintance? These baby bracelets are a great option. Instead of a mass-produced product, you can give a stylish and unique gift, allowing you to express yourself creatively and select elements with a high symbolic value – such as alphabet beads for the baby's name. You can create any combination of colours and materials to give your baby's bracelet a look of its own, with little effort – but lots of emotion – to create a wonderful first accessory for the baby.
These baby bracelets are a popular gift for expectant parents as with his baby bracelet, you're not just giving any old gift; instead, you're giving something that is both meaningful and joyful.
The alphabet beads round off the fun of crafting even more, turning the baby bracelet into a name chain. Don't forget that the beads can be combined to show more than just the baby's name: there are so many words that you can combine with your best wishes to send a welcome message to the little one and his or her parents! Simply look for the exact beads that you require for your message and bracelet design, and order everything online from the Schnullerkettenladen store.
You're sure to feel the joy of giving when you hand over your home-made baby bracelet. A loving message made from alphabet beads is always a hit. To ensure that you can start your work as quickly as possible, we deliver within a few days, and hope you have lots of fun threading the letters to read J-O-Y and lots of other lovely words!