Make your own soother chains: 10 design ideas for DIY dummy chains

A dummy is a standard item in any baby bedroom and provides for calming, good health and relaxation for the child. So that this vital item is not lost or falls down on the floor the so-called soother chain for attaching to clothes or the favourite blanket are quite beneficial. It is possible to purchase these chains as a standardized version in every specialist shop for baby accessories. But what if you want to have something individual and unique for your little darling? Then your creativity and skills are required.
Design the soother chain for your baby and give it a special present. Even as a relative or close friend attending a baby party you will surely experience an appreciative hand for such a lovely offering that will give much pleasure. In case you don't have any own ideas we offer you some unique design options and inspirations as well as suitable material suggestions for creating this valuable present.
❤ read on
10 Great Soother Design Ideas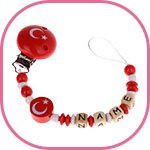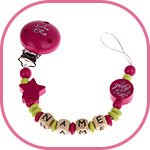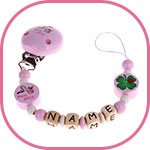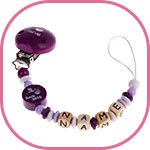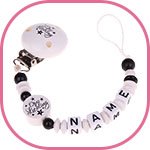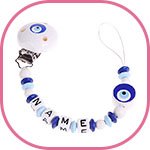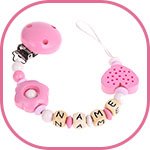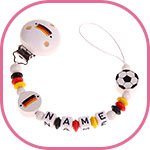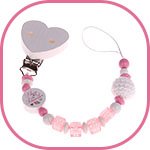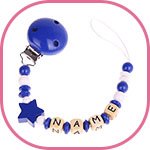 Soother chain in Turkish national colours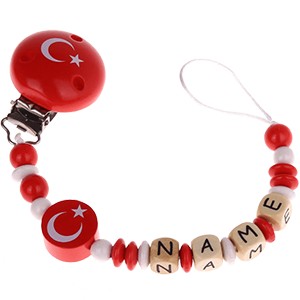 It is always an enormous enrichment for any person to have international roots. Cultural diversity and tradition of the home country are an important part of identity and take up a key role in life. Familiarize your child early with the values and characteristics of your second home and design your soother chain in the respective national colours of your home country.
Create for example a dummy chain in colours of the Turkish national flag. With red and white wood elements as well as Turkish motive beads threading on a cord raise the baby's awareness for its international roots. Furthermore, form with high-quality letter dice a name lettering which illustrates the international allegiance.
For this you need:
A dream in pink - Soother chains for girls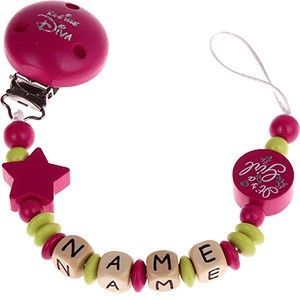 Rose and pink are classic colours for little girls. These widespread conventions are not uncommon. Psychologists and scientists agree that strong and red tones appeal to little girls in the first months of their life and preferred to blue tones. Researchers presume development historical reasons for this. But one thing is clear: Girls love pink and rose-coloured clothes and accessories.
Fulfil a dream for your little treasure and create a soother chain for her with bright pink wooden beads. As additional embellishment element stars and or girly motive beads are a great way of giving the dummy chain greater level of expression. Together with a name lettering made out of wooden letter dice and the charm of a second colour one will have created with this soother chain a valuable treasure.
For this you need:
Calm your baby lovingly with a rose soother chain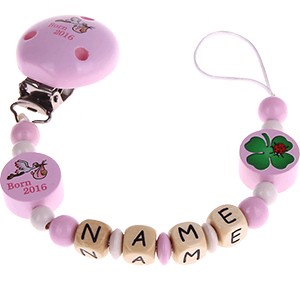 Rose is in the colour world one of the most loving and warm colours which symbolizes care and charity. In the colour theory it is generally known that rose promotes tranquillity, refreshes and calms. Beyond this it increases sensibility and helps love yourself. Do you want to give your child unconditional affection and convey in restless moments a feeling of security as well as peace? Then give it a rose soother chain made by you.
With loving wood beads in gentle rose tones as well as cute motives you will express your unconditional love. An additional lettering with first name of your treasure is a special plus increasing the level of uniqueness.
For this you need:
A purple soother chain for balance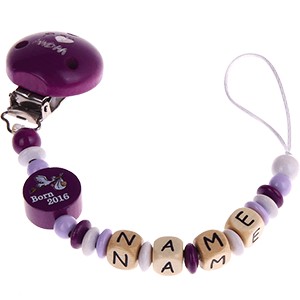 Next to red and orange the colour purple is popular with babies. This circumstance is linked to biological reasons as babies initially perceive during their development red tones. Furthermore, the colour purple has greater balance and regenerates the human psyche. For this design your soother chain in purple tones and help your little one get that much needed balance.
Thread for this pretty and cute wooden beads in various purple tones on a thread and crown this ensemble with a loving motive stone. The dummy chain gets additional character with a name lettering of your loved one which you can create with our loving wood cubes with letter prints.
For this you need:
Simple and secretive at the same time - Under the sign of Yin and Yang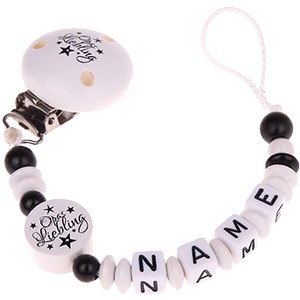 Black and white are colours that since the beginning of mankind have been of great importance. They symbolize life, relating forces as well as contrasting principles such as for example day and night.
In this dummy design white clearly dominates as a clarifying and cleansing function. Beyond this white represents purity, unaffectedness as well as innocence and subsequently perfectly reflects the perfection of babies. The black balls create fascinating accentuations that with the loving motif beads are harmoniously complemented. The simple and nevertheless mysterious soother chain will enthral every beholder.
For this you need:
White with a touch of blue - on the trail of purity and harmony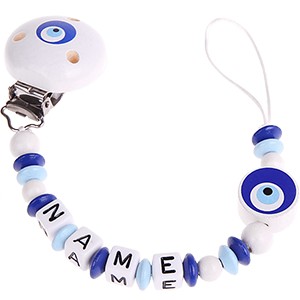 Purity and perfection are the most common associations with the colour white. White can be found in all colours making it an extremely important in the colour world. Blue also has the effect of being calming as well as relaxing and it is the German's most popular colour. These two tones in combination with the Eye of Nazar create a harmonious ensemble which entice to daydream as well as relax - a perfect way of putting the baby to sleep.
Realize these ideas with a soother chain and bestow your little one with special dreams. All you need we have listed below and soon you can start threading the white, dark and light blue balls as well as white-blue motif beads on a cord.
For this you need:
Let rose flowers and hearts speak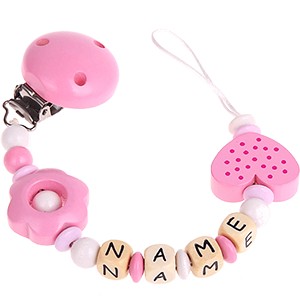 Rose has a calming as well as sincere effect and radiate both affection and unconditional love. With flowers and hearts you can emphasise this further giving your treasure great pleasure.
Thread the loving rose beads and motive elements from our online shop on a cord and top it off with individual name lettering or initials of the child as well as a pretty dummy chain clip. Also part of our offer range is the high-quality silicone products or small bells that of course are available in tender rose and red tones.
For this you need:
Soother chain for Football World Cup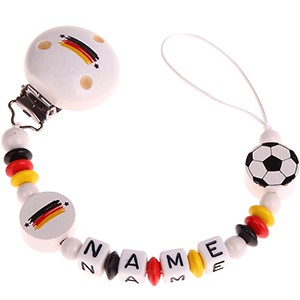 The Football World Cup or EURO is for most people in Germany an important event. Countless people dress up and decorate their homes as well as accessories in national colours. How about making a soother chain for a child corresponding with this occasion so that they can partake in the event?
Our high-quality wood beads in black, red and yellow - thread on a cord - together with our unique alphabet cubes and functional dummy chain clips create an individual present. The lower part forms a football ball that together with a round bead creates the perfect finish.
For this you need:
Purity and tenderness harmoniously combined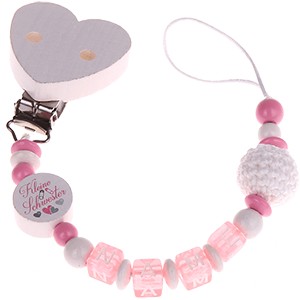 For most parents their baby is the most important thing in life. The highest priority is to offer a healthy and suitable environment. Bring this affection and unconditional love to bear with a personally created soother chain in white and rose. Lovely motif beads and dummy chain clips round off the harmonious as well as loving colour ensemble that thanks to an individual name supplement made out of alphabet cubes gets a personal touch.
Have an extensive browse in our online shop and design alternatively to this cute and own dummy chain design. Else below you can find all things you need to make this splendid design idea.
For this you need:
Sleep tight and sweet dreams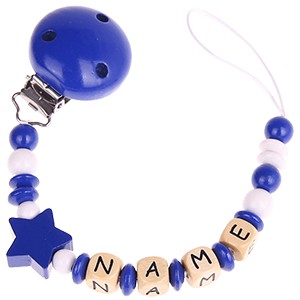 Blue is the classic colour for boys and one of the German's most favourite colours. Blue also has a calming as well as relaxing effect helping babies to sleep. As blue as the sky and water this base colour symbolizes both freedom and naturalness as well as stands for harmony and friendship.
Create a dummy chain with these pleasant colours now which is sure to enthral many people. Babies will also appreciate the depth and lightness of the colour tone. Together with cute motif beads in form of a star promises a soother chain in individual design that will help provide for a good night's sleep.
For this you need:
Soother chains - What must you consider?

An individual dummy chain is a loving as well as functional accessory for every baby.
It prevents that the loving dummy falls down and gets dirty. Beyond this the design with colouring and motives can calm the baby. But there are also other things to consider so that your child can enjoy the new toy / accessory without worries.
One key thing is to ensure the designed dummy chain is never longer than 22 cm. Else there is the risk of strangulation. Beyond this the elements of a soother chain should be colourfast so that they don't peel off with saliva or sweat. Furthermore, the clips at the end of the chain should be nickel-free and non-corrosive. Make sure they are suitable for children meaning the colours are non-toxic and have at least two ventilation holes as well as are on a tear-proof cord. In addition to this before using the dummy chain it should be checked every time. As soon as one part is loose and could be potentially swallowed it is recommended no longer to use it.